Archive for Volume 1
You are browsing the archives of Volume 1.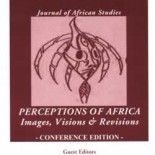 This first volume of the SORAC JAS was inspired by articles from the SORAC 98 – Images of Africa: Stereotypes & Realities international Conference. It features 13 articles by Africanist scholars from the United States, France and Africa. Volume 1, April 2000..